Wales waits and waits
02/06/2011by Rob Findlay
Over the weekend, a local paper in North Wales reported:
Shock rise in North Wales hip and knee surgery waiting times

THE number of patients waiting more than nine months for hip and knee replacements has rocketed by 11,700%.

In March last year just 16 people in North Wales had to wait more than 36 weeks for orthopaedic treatment such as joint replacement surgery. But that number saw an astonishing jump to 991 as of March this year. There has been a similar surge nationwide over the same period, from 38 to 4,466.

The shadow health minister, Clwyd West Tory AM Darren Millar, says the increase is "shocking" and "beggars belief".
It's a good thing they didn't go back another couple of months for their percentages, or it would have been "over 40,000%" and Darren Millar might have stopped breathing altogether.
Digging beneath the figures at StatsWales confirms the story, and shows that The Daily Post picked out the right specialty from all the data: nearly all of Wales's very-long-waiting patients are in Orthopaedics.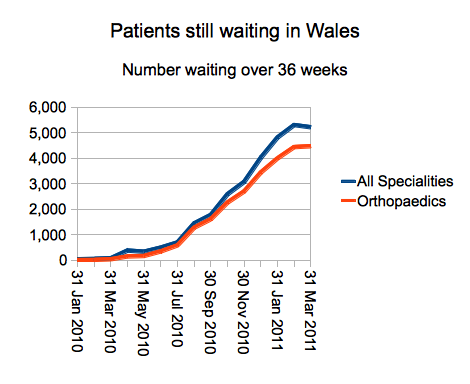 What is happening? Is the whole waiting list going up, or are the figures being skewed by local pressures in a few places? Bad news: this is happening right across Wales, with large increases in every Local Health Board.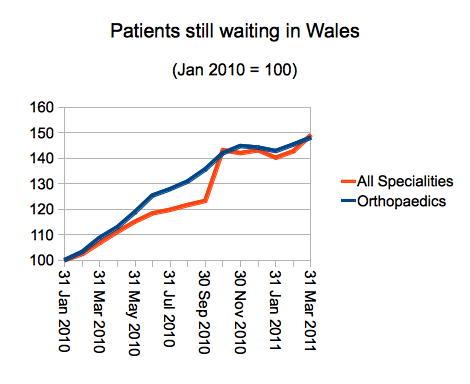 The Welsh waiting list has grown by nearly 50 per cent in just 14 months, both for Orthopaedics (from 41,876 to 61,986) and for all specialties combined (from 231,947 to 345,554). So although Orthopaedics is worst for long-waiters, other specialties are heading for trouble too.
How do we explain this? In the news article, the Welsh Government pointed to increasing demand for orthopaedics. So perhaps GP referrals have been soaring? (If you're digging up the figures yourself, unfortunately there seems to be a gremlin in the StatsWales database for GP outpatient referrals, but the obviously-wrong figures can be filled in from the statistics releases for the all-specialties figures.)
The upward trend across all specialties is 1,730 extra referrals a year, which doesn't explain a waiting list that is shooting up at nearly 100,000 a year. Nor does the upward trend for orthopaedics, at 177 a year, explain the 17,000 a year rise in the waiting list. According to the referrals figures, demand doesn't seem to explain the rise.
Have the hospitals slammed the brakes on treating patients then?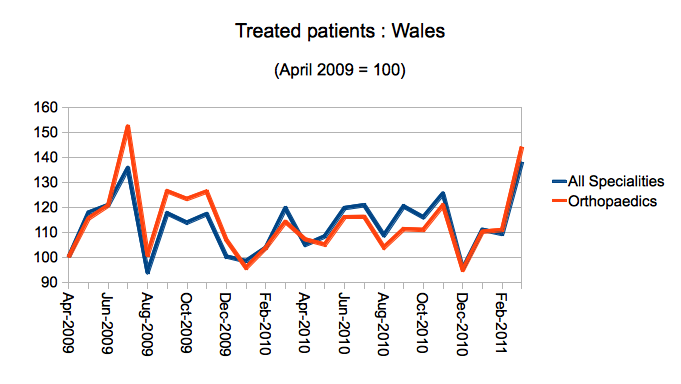 No sign of any dramatic slowdowns. In fact, the trend is slightly up.
So how can we explain the dramatic and continuing increase in Welsh waiting times? On the strength of these figures, sadly, we can't. We need to dig even deeper.
But something needs to be done in Wales, and quickly, to turn this around. On the current spending plans, that "something" will need to be more imaginative than buying more activity. If anyone in Wales knows how to explain the increase, or better still how to reverse it, then comments are welcomed below.
(This post first appeared at HSJ blogs)
Return to Post Index