Scotland slips on outpatient waits
31/05/2013by Rob Findlay
Outpatient waits are rising as Scottish Health Boards struggle with the new inpatient target, figures just released by the Scottish government suggest.
Usually the March figures show a year-end dip in outpatients waiting more than 12 weeks, but this year the rise has continued unabated. Outpatient waits are subject to a 12-week limit, but this is not legally binding and has the weakest enforcement of the main elective waiting times targets in Scotland. This relatively weak enforcement may explain some of the increase. However there may also be an effect from the reduction in the number of outpatients being declared "unavailable", as Scotland tightens up on this historically-widespread practice.
The most strongly-enforced target is the new 12 week inpatient wait (the legally-binding Treatment Time Guarantee, or TTG). It came into force in October 2012, and there was a sharp improvement in inpatients waiting over 12 weeks in the first quarter after it was introduced (up to the end of December). However the latest figures show that even this target slipped in the next quarter, despite being relieved by all those patients held up at the outpatient stage.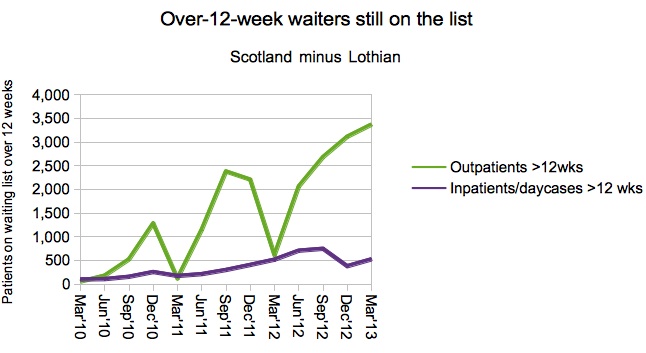 Anyone wanting to compare Scottish and English waiting times should be aware that they are counted very differently, and you can find a detailed comparison here.
The chart above excludes Lothian Health Board which has been in special measures following a waiting list scandal. It also adds up the pre- and post- October 2012 inpatients, which are inconveniently separated in the official data. Oh, and if anyone at ISD is reading, that pretty combo box in your Table1_2 spreadsheet doesn't work, so is there any chance of just laying everything out in a plain data table? I managed to hack the spreadsheet anyway, but it was a bit of a faff. Thanks.
Return to Post Index