Sharp increase in English waiting list
20/05/2013by Rob Findlay
The number of patients on the English waiting list increased sharply in March, according to the latest figures, and the total list size is now larger than in recent years.
There had been speculation that winter bed pressures, which caused cancellations of elective surgery in March and April, would lead to longer waiting lists. But the number of patients admitted from the waiting list was broadly on track in March, so the picture is not quite so neat and rising referral rates are part of the explanation.
The number of patients waiting is an early indicator of waiting times pressures to come, so a rising waiting list is cause for concern. But it takes time for the pressures to feed through. The position on 18 weeks was broadly stable in March with only a small deterioration, and the number of one-year-waiters broke new records as providers clear their extreme long-waiters before the zero-tolerance penalties begin in April. One-year-waiters fell to just 473 at the end of March, down from 665 the previous month and 5,149 the previous year.
All figures come from NHS England, who have taken over responsibility for this data series. If you have a national statistic that you'd like to check up on, you can download our NHS waiting times fact checker
England-wide picture
The officially-reported number of patients waiting (i.e. incomplete pathways) rose sharply, and looks very high. But in recent years the NHS has been improving the coverage of its reporting, so…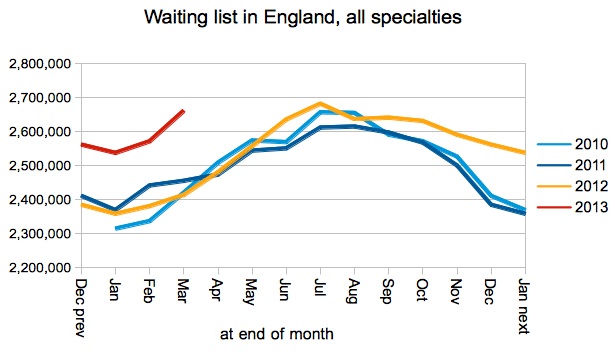 If you strip out the effects of step-changes in the data then the list size looks more in line with the last few years. Nevertheless the increase in March has taken it to a new seasonal high which is cause for concern. (The adjustments used in the chart below take into account the return of North Bristol to this data series, which accounted for 27,185 of the increase.)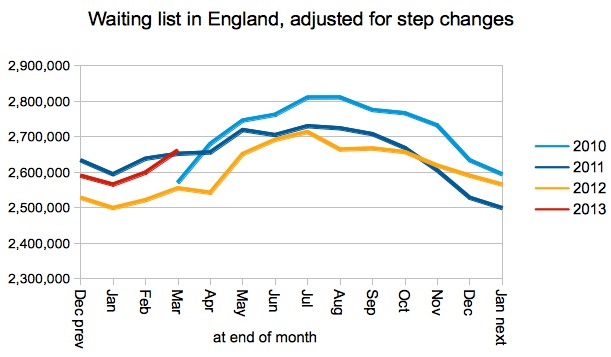 Admission rates continue to follow the broad pattern of previous years, despite the widely-reported winter pressures. Admissions per working day did fall slightly compared with February, when in previous years they have risen into March, but these figures do not show widespread cancellations on anything like the scale of the very cold winter of 2010.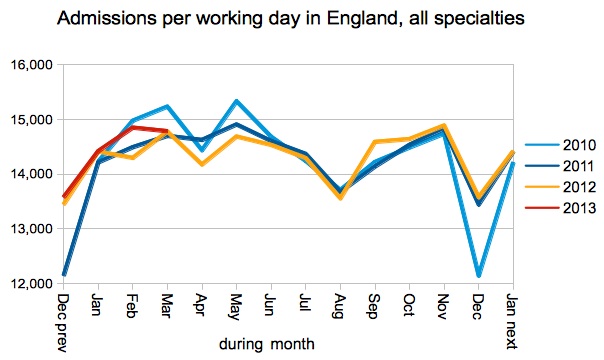 One-year-waiters have again fallen rapidly, in advance of the zero-tolerance penalties for one-year-waiters which began in April. Other long-wait measures remain broadly steady.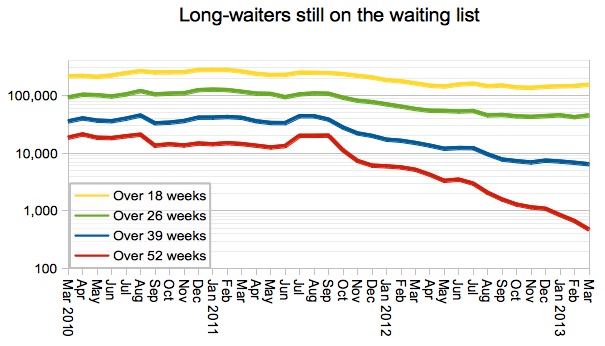 My preferred measure of 18-week-waits, the 92nd centile waiting time for incomplete pathways, remains steady with just a small deterioration.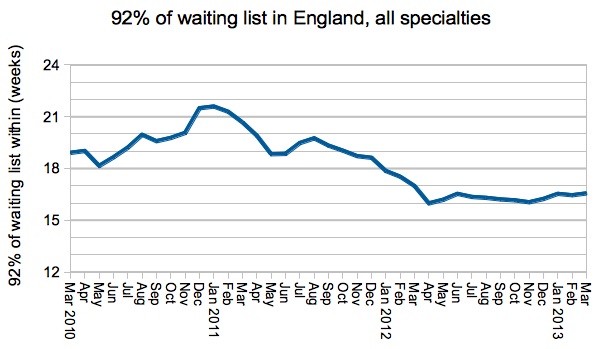 At specialty level, General Surgery finally tipped across the line to fail narrowly against the target. Orthopaedics continued to deteriorate, as did the more specialised long-wait specialties.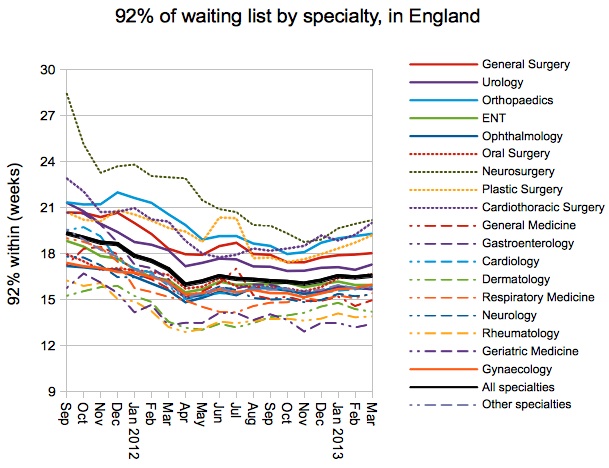 The proportion of services at provider-specialty level remained stable, with just a small decline from 85.2 to 85.1 per cent achieving the incomplete pathways target.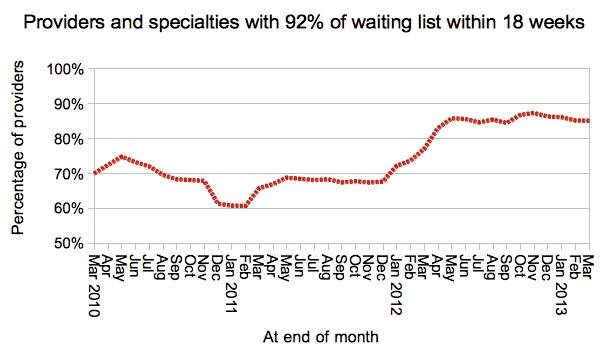 Provider top ten
Congratulations to the Robert Jones and Agnes Hunt Orthopaedic Hospital (RJAH) for nearly halving their one-year-waits backlog. They had to admit some 53 one-year-waiters to do this, which was the equal highest number of over-one-year admissions in England.
Trusts with the largest numbers of one-year-waiters remaining are: 79 at East Kent, 57 at King's, 54 at RJAH, 42 at the Royal Orthopaedic, 39 at Barts, 16 at Doncaster, 16 at Royal Devon, and 13 at Southampton.
As mentioned above, North Bristol have finally restarted submitting waiting list data for the first time since July 2012. Bradford are still absent from this data series.

The April 2013 data is due out at 9:30am on Thursday 20th June 2013.
Return to Post Index