Imperial's holiday
16/02/2012by Rob Findlay
Ever feel you can't cope with your waiting list problems? Do you have complex and significant 'system issues' to address?

Then why not take a holiday?

That's right, for a limited time only, you can take a 'reporting break' absolutely free! So don't publicise those long-waiters, keep them to yourself for a while. Relax, you're on holiday!

(Contact your local commissioner and the Department of Health for further details. Offer subject to status.)
Imperial are taking a holiday. We don't know exactly why, but if an anonymous comment in the HSJ is to be believed then it is not an IT problem.
What we do know is that it is extraordinary. Yes, other Trusts have had difficulties counting their waiting lists. Yes, other Trusts have taken short, unplanned reporting breaks when their systems failed. But a planned reporting break, with permission in advance? Unprecedented.
Who stands to benefit? Imperial, certainly. But what about the other parties involved?
Imperial says the 'reporting break' has already been discussed with NHS North West London and NHS London. The HSJ quotes a relaxed-sounding Department of Health. Do they stand to benefit? If Imperial takes a break, do the long-waiters drop out of the commissioner-side figures too? Would the potential for a waiting times breach at NHS London, noted by the HSJ, be avoided?
To find out, let's look at an unplanned reporting break that happened last year. The blue columns show Kingston Hospitals' reported over-18-week waiters; you can see the unplanned reporting break where data is missing for April and May. The orange columns show the same figures for their local PCT, and the reporting break is clearly visible there too. So on this occasion, a provider reporting break did show up in the commissioner-side figures.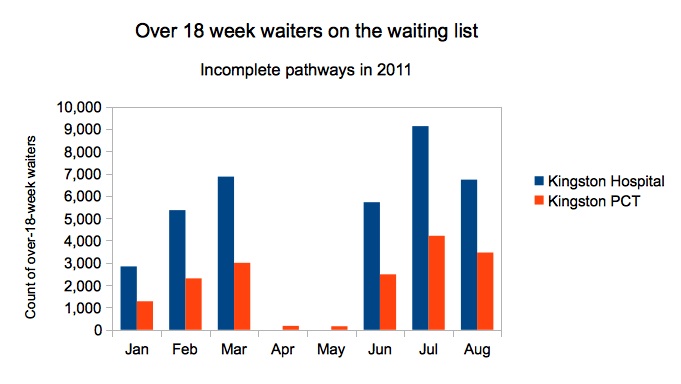 This evidence suggests that Imperial's reporting break could flatter the commissioner-side figures as well as their own, to the benefit of their PCT Cluster, NHS London, and the Department of Health.
Could it make the difference between success and breach at SHA level? It certainly could. If we look at the adjusted admitted pathways statistics for November 2011, we can see that NHS London achieved 90.3 per cent of admissions within 18 weeks, which turns out to be only 151 admitted patients clear of the 90 per cent target. So if Imperial clears its backlog, then it could easily cause NHS London to breach.
This is yet another illustration of the damage caused by the current admitted-patients target, which has recently been extended for another year by the Department of Health. Under a saner target regime the Trust and its commissioners would be keen to clear genuine long-waiters by treating them. But under the current perverse regime of treatment-based penalties and performance management, they are afraid to do so openly. This, then, is a possible motive for the reporting break.
What should be done differently? Firstly, Imperial should change its mind about taking a reporting break; let's have all the figures out in the open, even if they aren't perfect. Secondly, let's ditch the treatment-based target regime, which Ministers accept is perverse, and move over to the new "92 per cent of the waiting list within 18 weeks" target right away. Thirdly, let's see the Department of Health standing up for transparency in public services, instead of giving the nod to this extraordinary suspension of reporting.
Update on 16 Feb 2012: Imperial has started its holiday early, with permission from NHS London. They did not submit any data for the December 2011 RTT waiting times statistics published today.
Return to Post Index