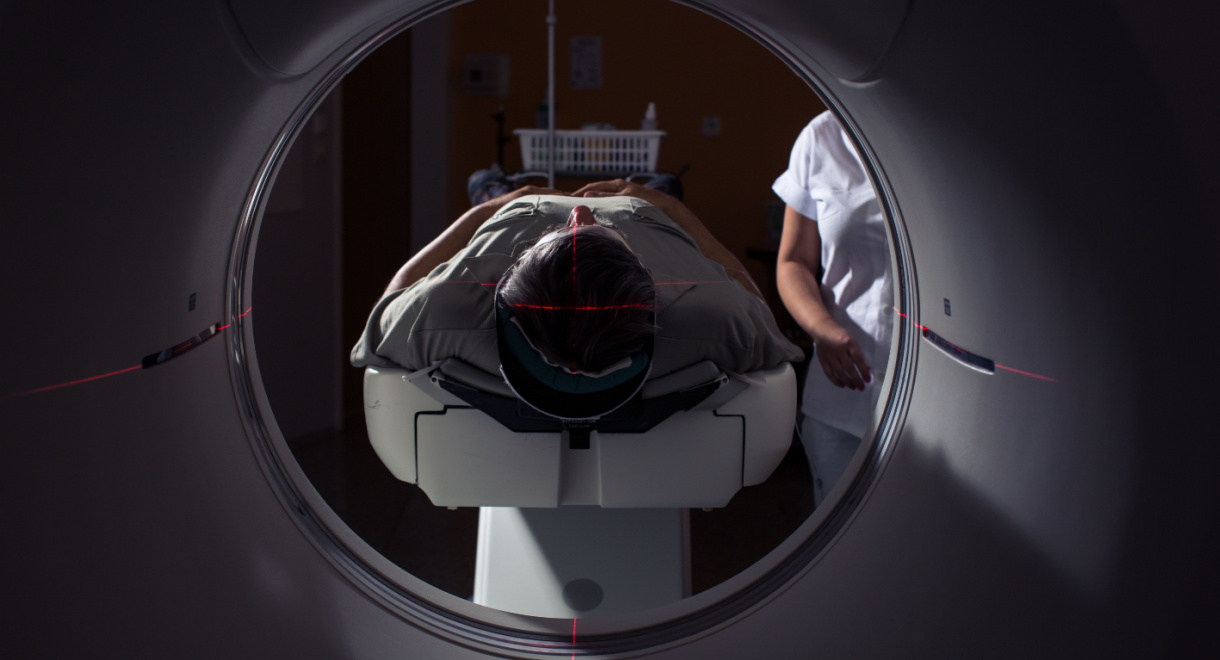 Waiting list grows again as NHS plays catch-up on missed targets
14/08/2023by Rob Findlay
The referral-to-treatment (RTT) waiting list in England grew to a new record size of 7.6 million patient pathways in June, up by over 100,000 patients during the month.
Within that number, some 6.5 million are still waiting for a diagnosis and decision to admit, of whom an estimated 27,000 will eventually receive an unexpected cancer diagnosis after typically waiting 44.1 weeks to get it. That is far too long to wait for a cancer diagnosis, which is why the RTT targets should be split so that waits to diagnosis and decision can be tackled quickly.
There were signs of catching-up on the waiting time targets that have been missed so far. RTT waits over 104 weeks were supposed to have been eliminated by July last year, and the numbers fell from 482 to 314 this June. And waits over 78 weeks, which should have been eliminated by April this year, fell from 11,446 to 7,177.
The next deadline is to eliminate RTT waits over 65 weeks by March 2024, and here the numbers are still going in the wrong direction – they increased from 96,801 to 97,275 during June.
In the following discussion, all figures come from NHS England; they do not include the recent revisions to data from October 2022 to March 2023. For analysis of local waiting times performance and the outlook for your services eliminating 65 week waits, including the recent data revisions, visit our reports page or our maps and analyses of the latest elective waiting times across England.
The numbers
Demand remained at just above pre-pandemic levels, as measured by the numbers of patients starting new waiting time 'clocks' for consultant led elective care.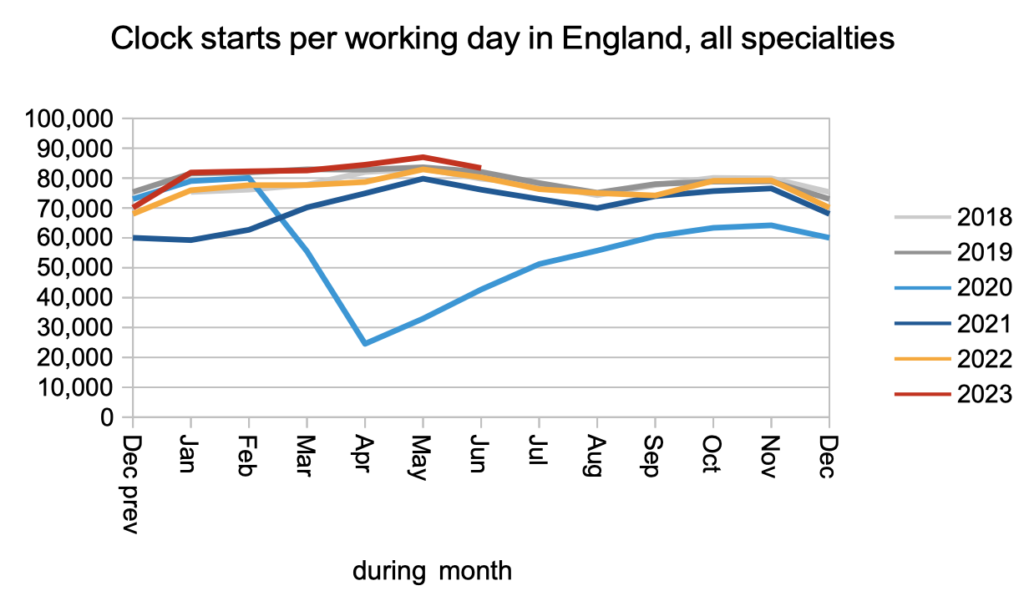 Patients were also discharged from clinic – or administratively – at just above pre-pandemic levels, as shown below by the numbers of non-admitted clock stops (for reasons other than admission for treatment).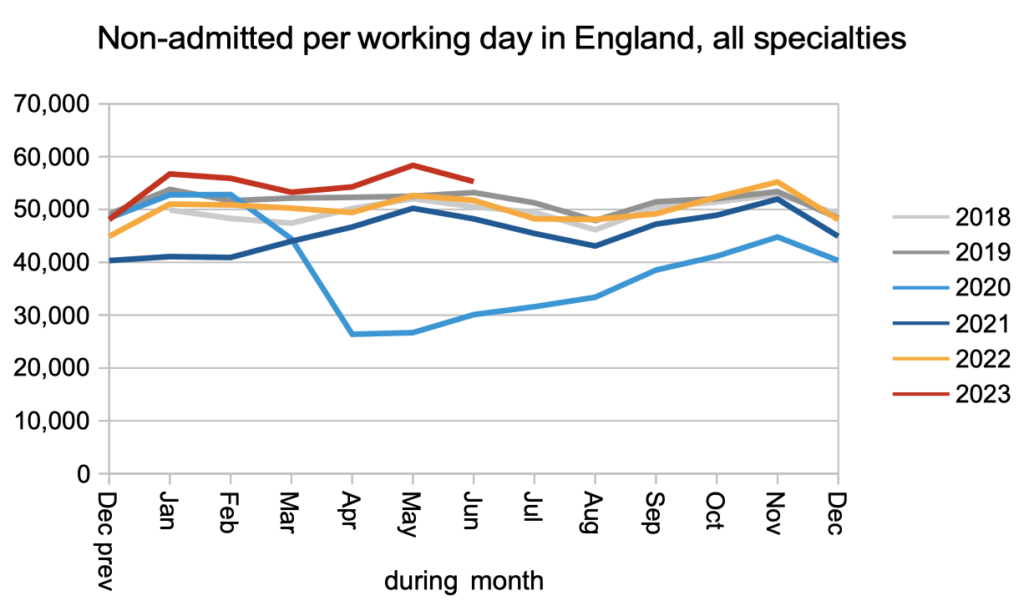 The waiting list of patients who have not reached diagnosis and decision grew to a new record size of 6,454,751 patient pathways. Within that, an estimated 27,455 patients will eventually receive an unexpected cancer diagnosis.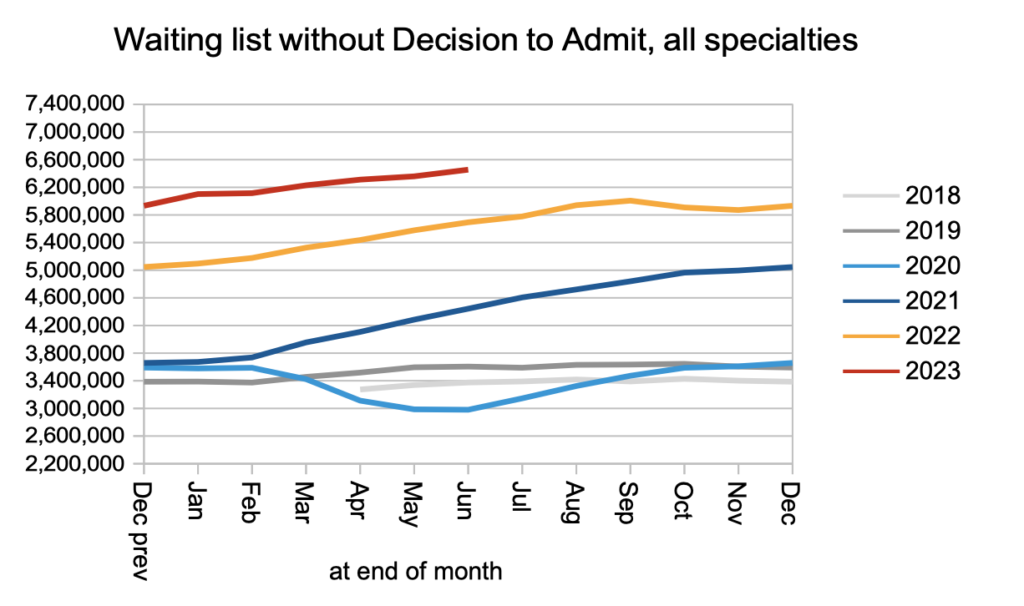 Admissions for treatment remained just below pre-pandemic levels. These admissions for inpatient and daycase treatment are vulnerable to bed shortages which are the likely reason why these numbers are struggling.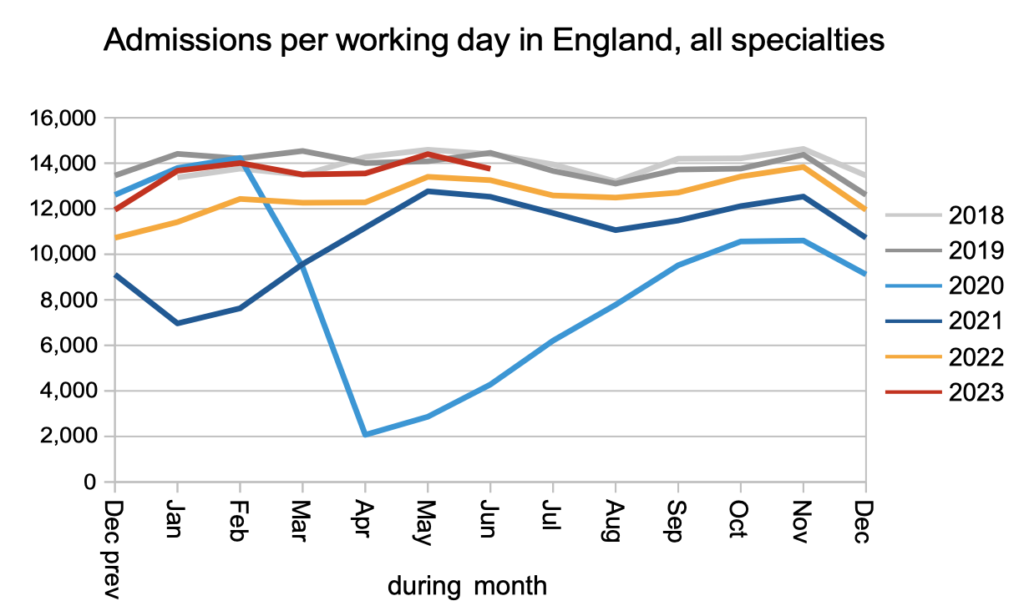 The net result of these clock starts and clock stops was a continued growth in the size of the RTT waiting list to a new record of 7,574,649 patient pathways, in spite of the Prime Minister's New Year pledge that "NHS waiting lists will fall".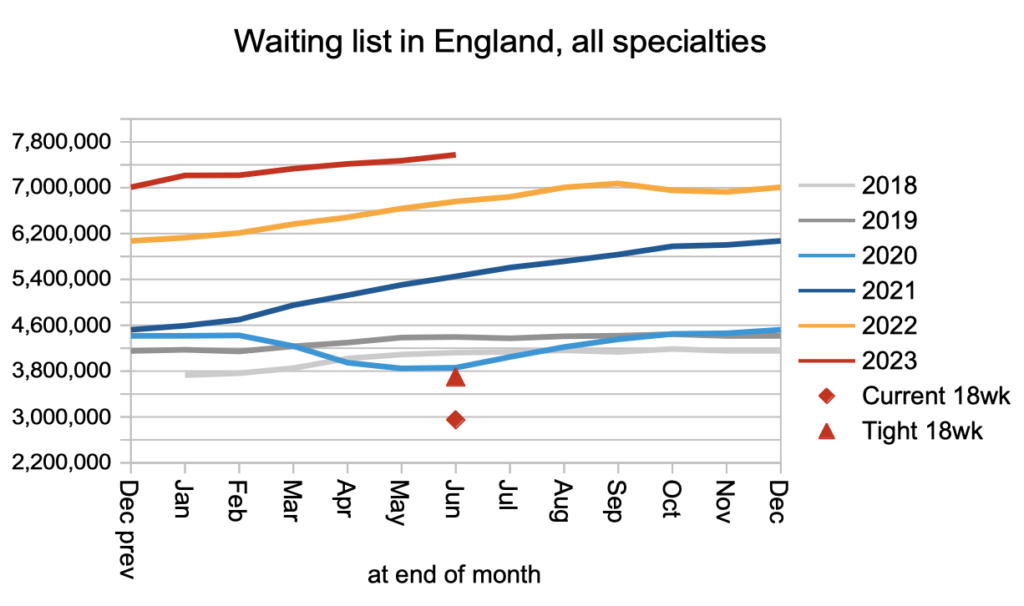 What matters to patients is how long they will have to wait, rather than the number of other patients who are also waiting. Waiting times remain very long. The typical wait from referral to treatment is 46.2 weeks for a routine patient. Within that pathway, the wait from referral to diagnosis and decision is typically 44.1 weeks, which is far too long for the estimated 27,455 patients mentioned above whose diagnosis will unexpectedly turn out to be cancer.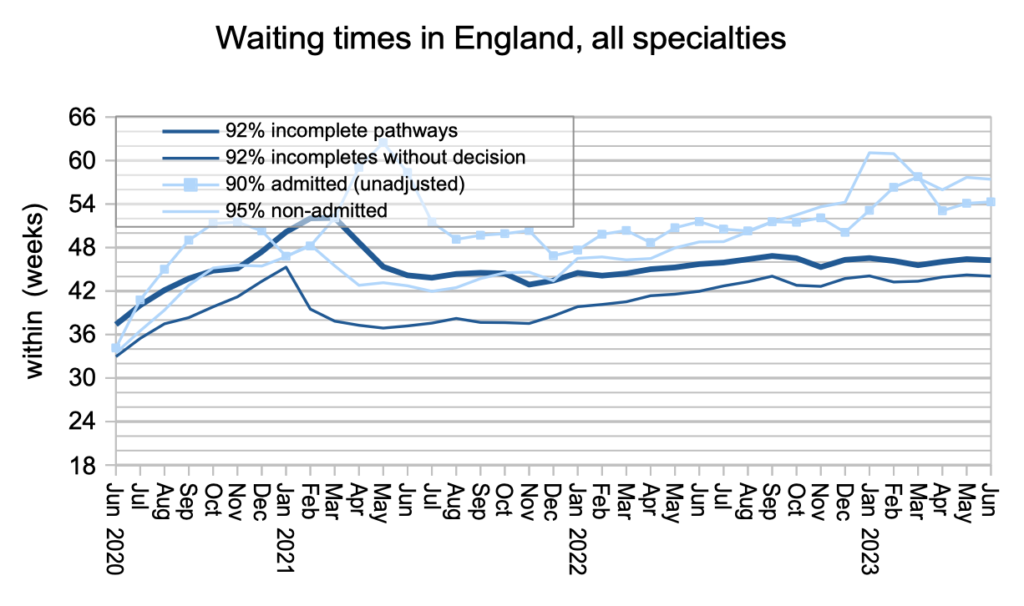 Waiting times are a function of both the size and shape of the waiting list. The shape remains significantly worse than pre-pandemic, as shown by the index below.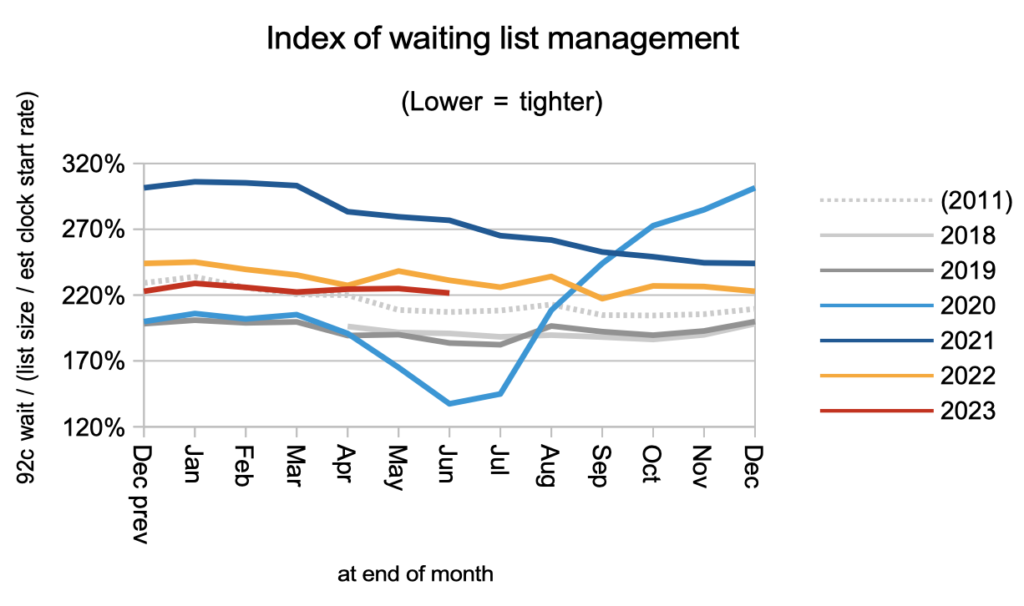 Waiting times in the longest-waiting specialties have been falling in response to the currently enforced targets, while shorter-waiting specialties have generally been deteriorating. All will need to come down eventually to restore safe and resonable waiting times in compliance with the '18-weeks' legislation.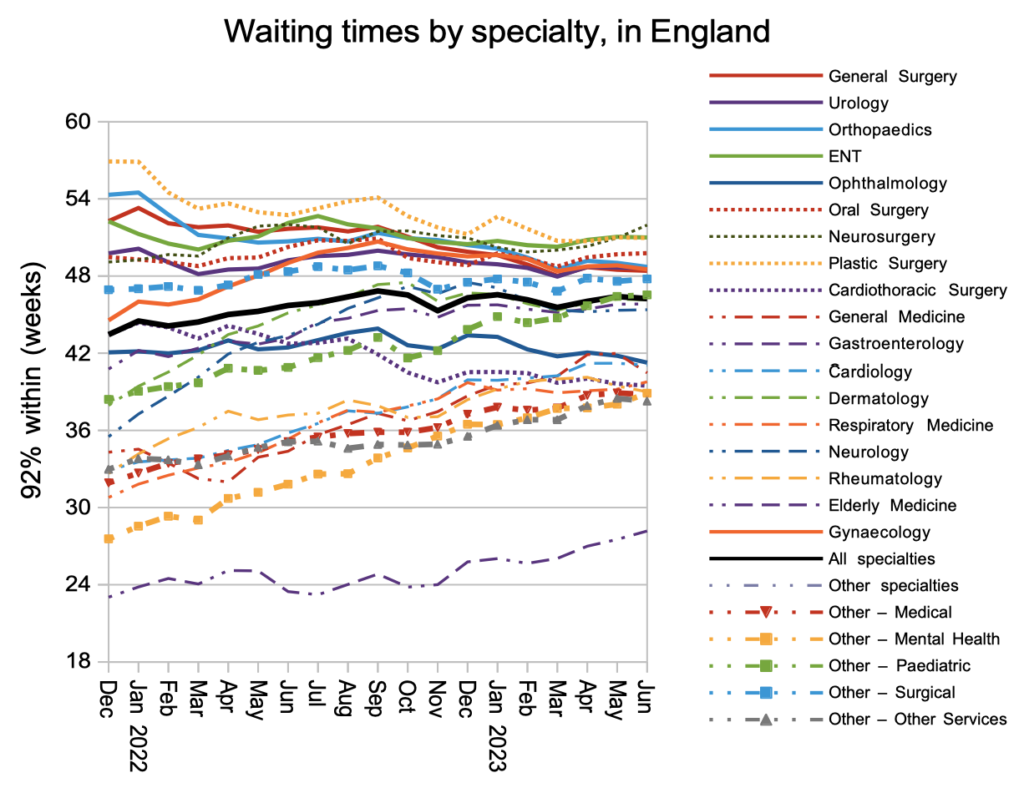 The poor waiting list shape noted above is largely caused by the huge variation in waiting times at local services across England. If the longest RTT waits are to be eliminated in line with the currently enforced targets, that will require success in every single local service. I published an assessment of the difficulty of achieving this in the HSJ recently and will update the relevant charts alongside the maps that follow this monthly analysis.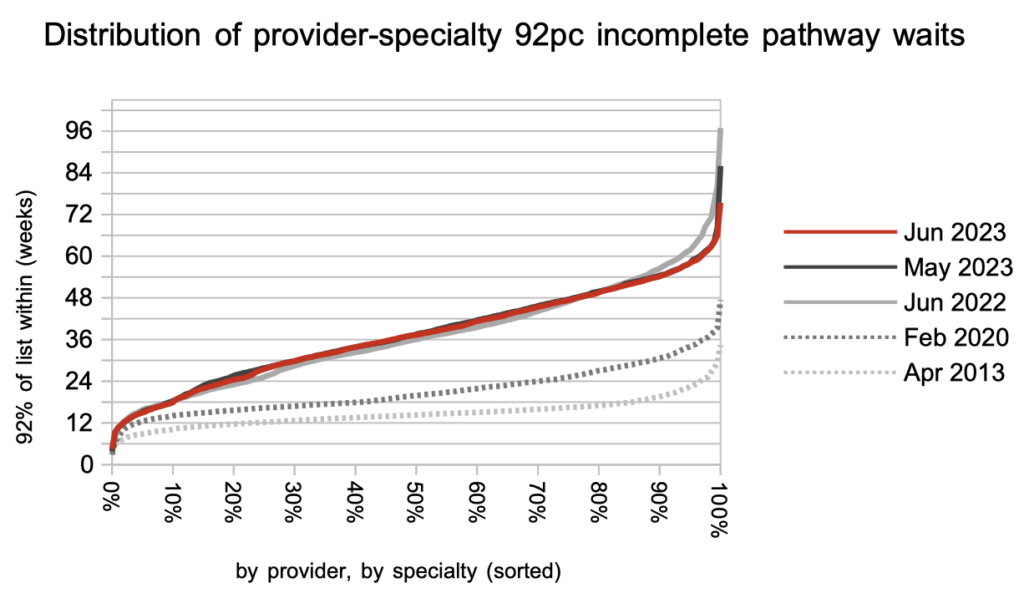 Referral-to-treatment data up to the end of July is due out at 9:30am on Thursday 14th September.
Return to Post Index