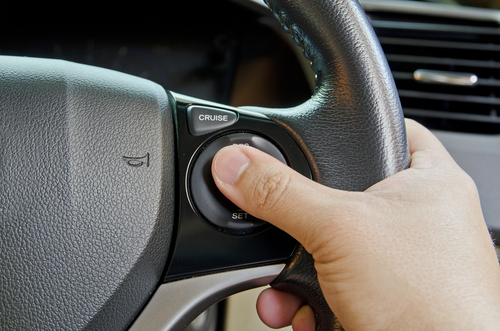 If the NHS had cruise control – the importance of constant capacity
10/03/2016by Rob Findlay
You don't want to break the speed limit, but you do want to get down the motorway as quickly as possible. So you switch on cruise control, and something miraculous happens: your average speed actually goes up.
It works like this. A moderately attentive driver, determined not to break the speed limit, might keep their speed somewhere in the range 64-70mph – averaging around 67mph. But cruise control can do better, and might manage a tighter range of 68-70mph – averaging around 69mph. Even though the maximum speed is still 70mph either way, cruise control can cover the miles faster, just by reducing variation.
Cruise control holds your speed steady, but it doesn't do it by keeping everything the same. It is constantly adjusting the throttle to counteract the uphills and downhills on the road. Advanced types of cruise control even link to the navigation system to anticipate bends in the road, which provides safer speed control than simply responding to gradient changes.
But this isn't a petrolhead's magazine, so why am I going on about cruise control? Because exactly the same principles apply to NHS capacity. By reducing variation, the NHS can keep up with demand with less capacity and consequently lower costs.
For instance, we know that in the winter we are likely to need more beds for medical emergencies. We could open some escalation beds (if we have them) and incur the high marginal costs of bank and agency staffing – the capacity equivalent of paying a speeding ticket. Alternatively we could release the beds we need by planning a slow-down in routine inpatient surgery, swap those surgical beds over to medicine, and get through winter with our usual bed and staffing numbers. Many hospitals already do something like this, but continued reliance on escalation beds and waiting list initiatives shows there is scope to go much further.
There's more. If we simply did fewer inpatient operations during the winter, then surgeons would be frustrated by not having enough work to do – a waste of their time and the NHS's money. So we can offset the reduced inpatient numbers with higher levels of daycase surgery, and keep the theatres and surgeons busy all winter as well. Constant beds, constant theatres, and without labouring the point you can see how we could achieve constant clinics too.
Like cruise control, keeping constant capacity does not mean doing the same thing every week – it means constantly adjusting the throttle so that different services flex up and down through the seasons. But the advanced cruise control technique of planning ahead for predictable change is even more important in the NHS, because we are faced with a time lag; operating sessions are typically booked several weeks in advance, so it would take that long to respond if we simply reacted to changes that had already happened (and by the time we had responded it would be too late).
There is something else we need to keep an eye on: waiting times. If we are going to operate on fewer inpatients over winter then inpatients waiting times are going to rise, so we need to make sure our waiting lists are nice and small before winter begins. That way, when the slowdown comes, there will be enough headroom for waiting times to rise without breaching the target.
Similarly, if we are going to plan a surge in daycase operations over winter, then daycase waiting times are likely to peak just before winter begins. We just need to make sure that the peak will be within target, and again that means building in headroom.
Clearing some headroom on waiting times might sound like a big ask in the current climate. But consider this: in the long run, the NHS can do no more (and no less) than keep up with demand. So we can either keep up with demand while keeping plenty of headroom between our waiting times and the target, or we can spend our years bumping unhappily along the ceiling. Long-term, it's the same amount of activity either way.
But there's a big difference in cost. If we have enough headroom on waiting times, then waiting lists can rise and fall naturally through the year without breaching the target. That gives us freedom to shift routine elective work around, anticipating the predictable peaks and troughs in emergency and urgent demand. So we can keep beds, theatres and clinics at a more constant level throughout the year. And we can avoid the high marginal costs of short-notice beds, sessions and staff.
In short, for the price of a one-off effort to slim down our waiting lists, we can buy the opportunity to run the hospital more cheaply forever. In the current climate, that is surely a benefit worth having.
---
Constant capacity planning is available now in Gooroo Planner – click here to learn more
Return to Post Index