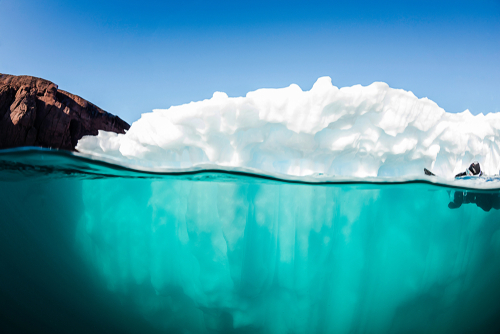 Elective waits topped 34 weeks in May
15/07/2020by Rob Findlay
NHS hospitals in England remained mostly closed to routine care in May as the covid shutdown minimised elective activity for another month.
Referrals remained very low too. But there is unfortunately no reason to think that the people of England have abruptly stopped developing non-covid disease. Many patients who have been steering clear of their GPs during covid will at some point present and be referred onwards to a consultant led service.
When that happens, the RTT waiting list will grow rapidly, revealing the missing demand that is currently held back in the community. The apparently shrinking waiting list is therefore an illusion – like an iceberg, much demand remains hidden below the surface.
England's RTT waiting times – which have now passed 34 weeks compared with the statutory target of 18 weeks – are (from a patient's perspective) also an illusion because routine activity remains very constrained by covid and routine patients are going to be kept waiting a lot longer.
Even before covid struck, the NHS was unable to keep up with elective demand, with the result that waiting lists and waiting times were growing. The post-covid backlog will be truly enormous. Baseline capacity will therefore need to increase very significantly for several years post-covid, to reassure the public that waiting times will one day be restored to safe and reasonable levels.
In the following discussion, all figures come from NHS England and NHS Improvement. If you have a national statistic that you'd like to check up on, you can download our waiting times fact checker.
For analysis of waiting times performance at a particular organisation, visit our reports page. You can also access maps of the latest waiting times across England for A&E, cancer, and RTT.
England-wide picture
Referral rates remained extremely low in May, reflected by 'clock starts' in RTT jargon, but there is no reason to expect that people have suddenly stopped developing disease. Many of the apparently missing referrals can be expected to come back at some point.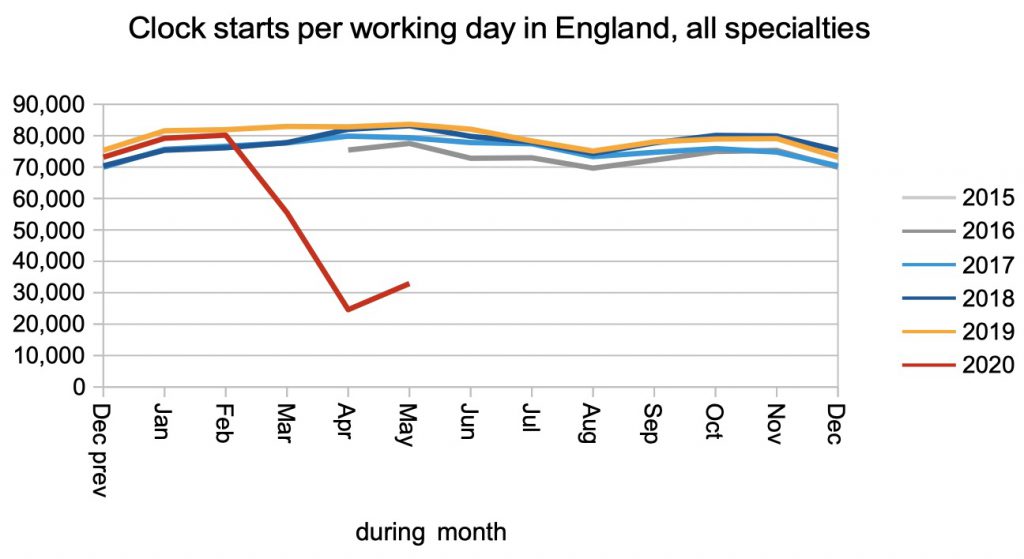 Non-admitted clock stops (which count those patients removed from the waiting list for reasons other than admission as an inpatient or daycase) remained very low overall, consistent with only urgent referrals being seen in clinic.
However the numbers of non-admitted clock stops have held up for the longest-waiting patients on the list, and non-admitted clock stops for patients who had waited longer than 52 weeks were well above pre-covid levels.
This is likely to reflect two things: firstly, non-admitted clock stops include administrative removals from the waiting list as well as patients seen in clinic, and hospitals are rightly reviewing their waiting lists to assess clinical priority and will be spotting patients who should not have been included in the figures; and secondly, the sheer numbers of over-52-week waiters are rising very rapidly, so there are more potential candidates for removal.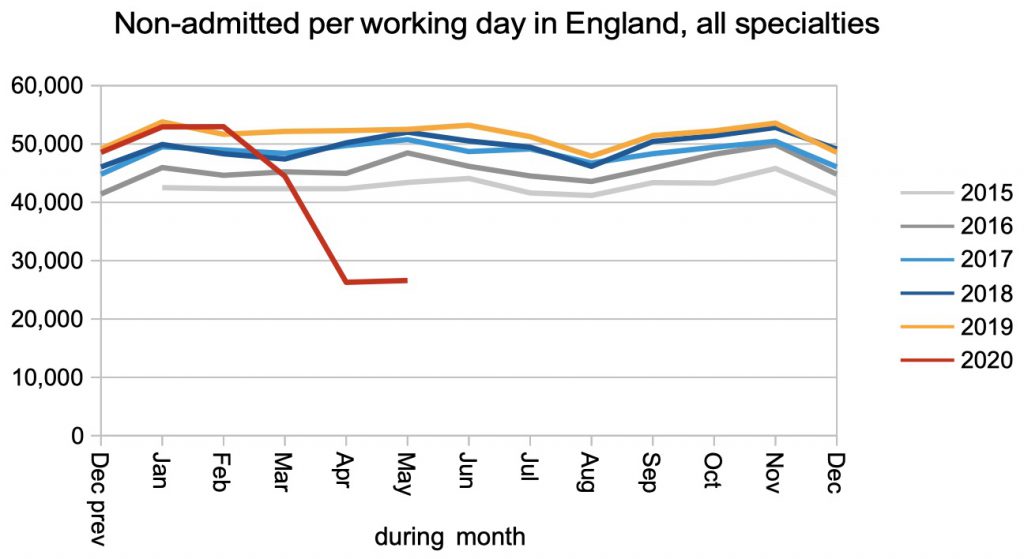 Admission rates remained extremely low, consistent with treating only those urgent referrals who are confirmed as urgent when seen in clinic. Unlike the non-admitted clock stops, admission rates are very low for long waiters as well as short.
There is a hidden clinical risk here, because it is not unusual for a routine referral to turn out to be urgent when the patient is seen in clinic. Because routine referrals are mostly not being seen (or even referred) at the moment, many urgent conditions are not being detected early enough.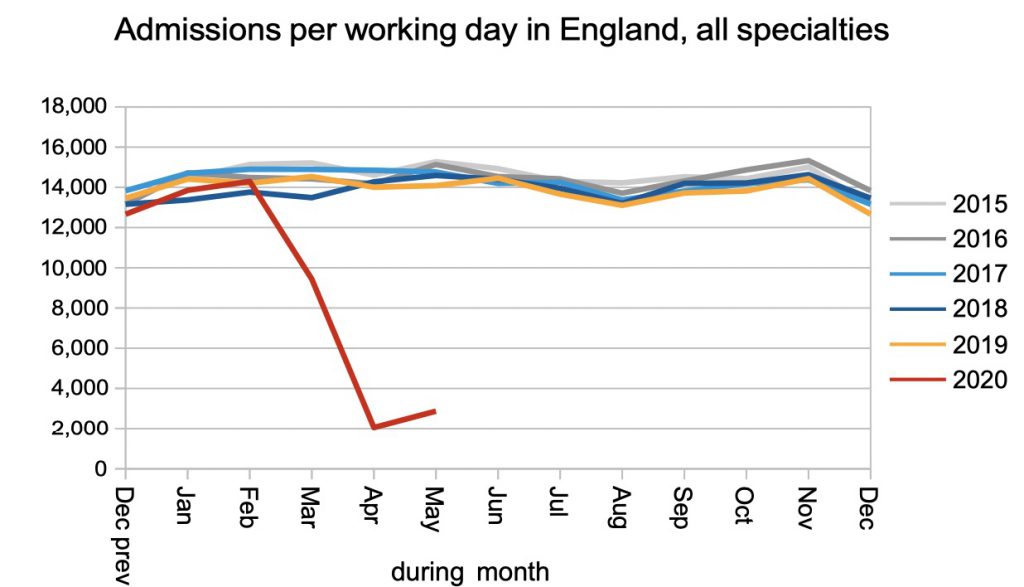 The net result of very low referrals and very low activity is, at the moment, a shrinking waiting list. The missing referrals are likely to bounce back, but the missing activity is lost forever. So the reported waiting list misses the very large number of patients whose referrals are currently delayed.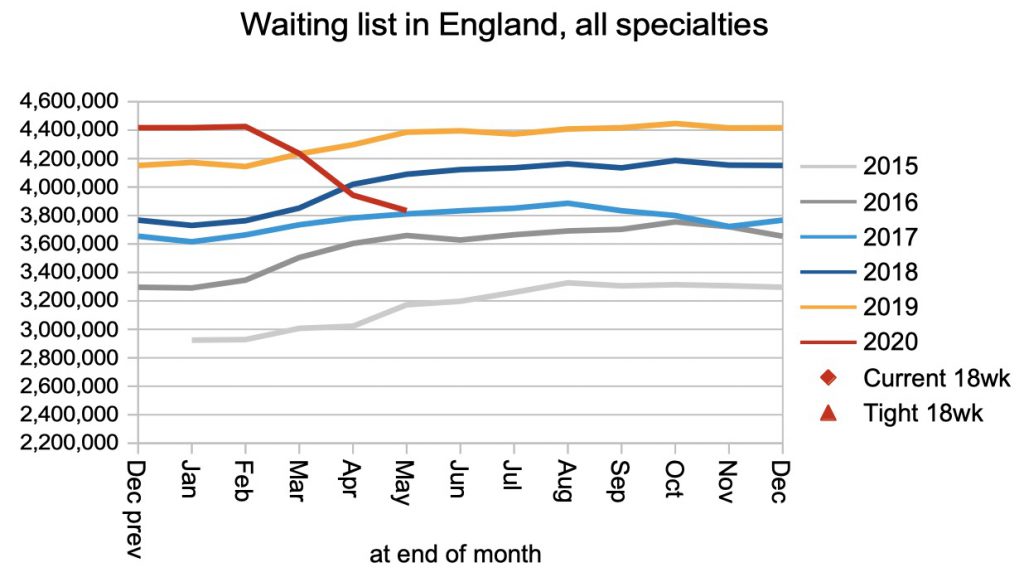 Waiting times continue to rise at nearly one week, every week, as most routine patients remain on the waiting list with no immediate prospect of treatment.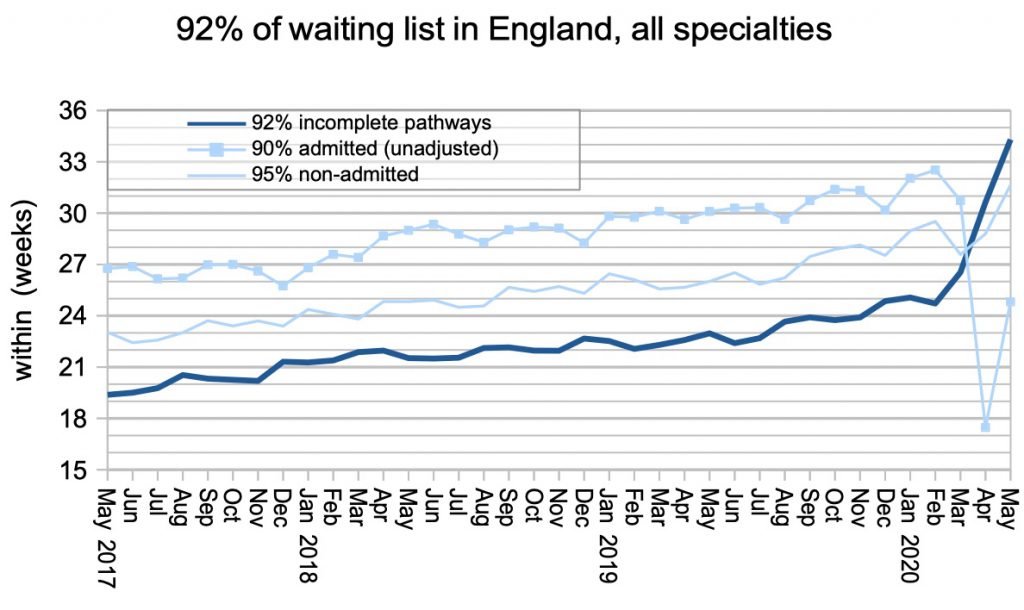 The same is true in every specialty.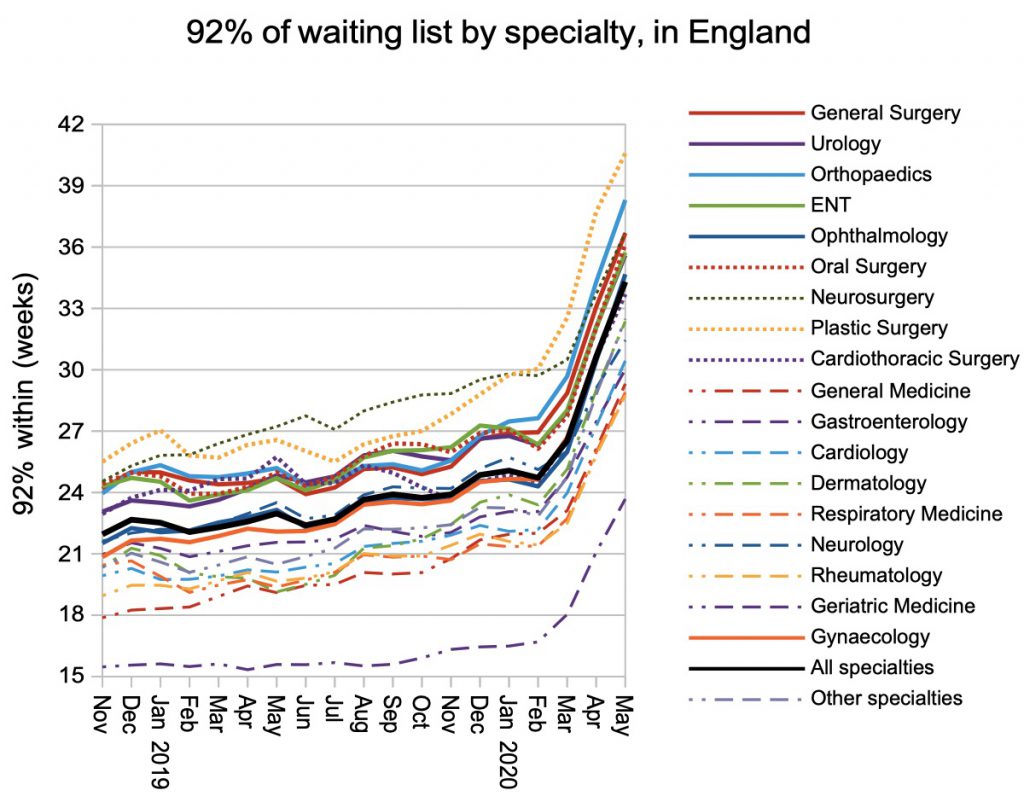 The number of one year waiters is rising very rapidly as ever-larger numbers of patient tip over the 52 week mark. The longer this goes on, the less useful this measure will become. It would be insightful if NHS England were able to start breaking down the 'over 52 week' category into more detail. One option would be to extend the weekly cohorts up to two years (or even longer). Another would be to split 'referral to treatment' into 'referral to decision' and 'decision to treatment', to reveal the growing delays in reaching diagnosis.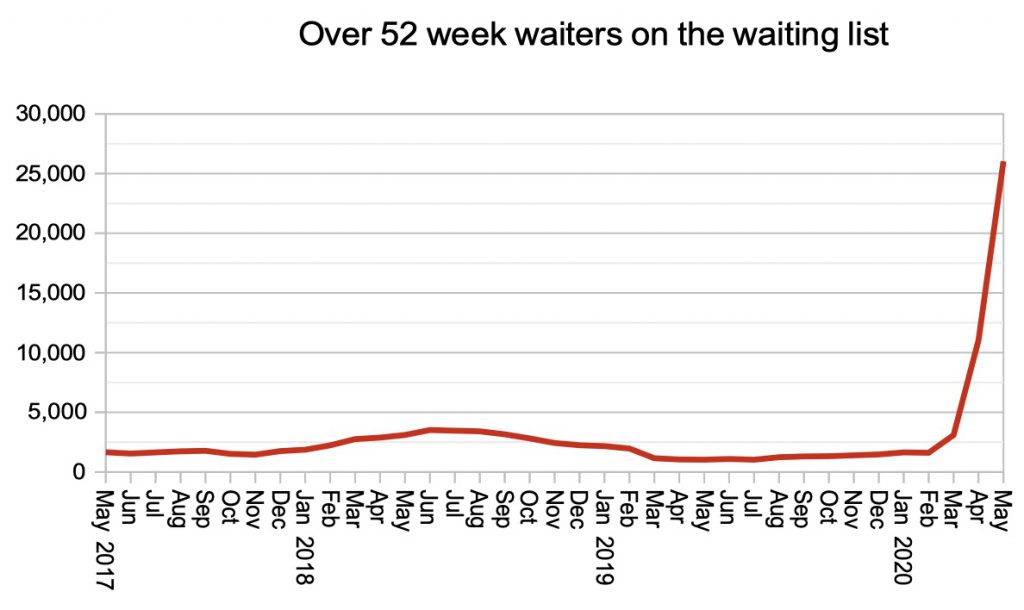 Local picture
Delving down to local services (individual specialties within individual providers), the proportion of local services achieving the statutory 18 week target fell to below 8 per cent.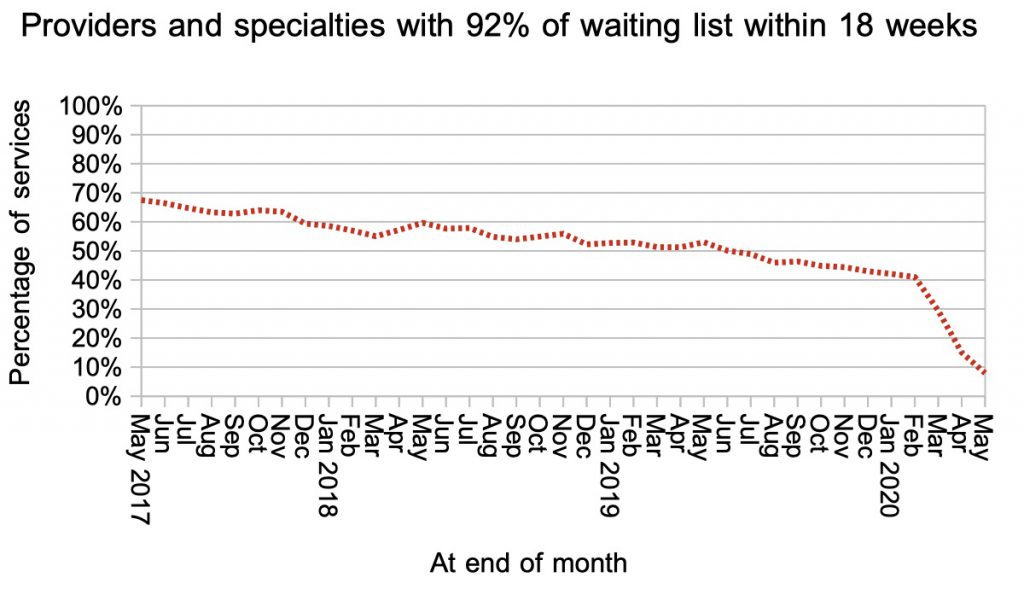 Looking at the distribution of local waiting times, the increases of nearly one week every week are seen almost across the board. The exception, again, was where services were just able to achieve 18 weeks and made efforts to limbo under the bar.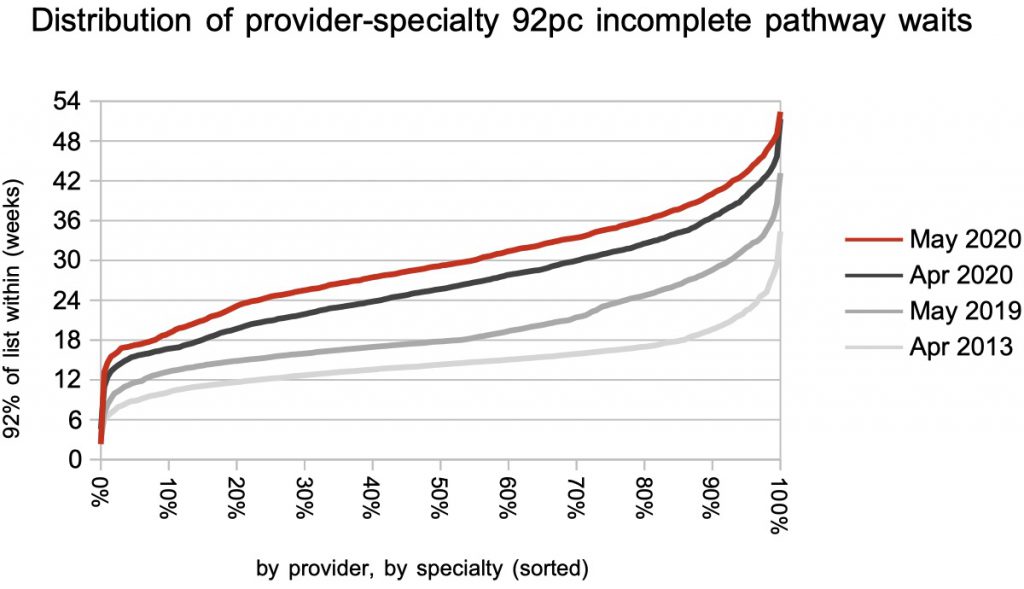 Referral-to-treatment data for June 2020, the third complete month of the covid-19 elective shutdown, is due out at 9:30am on Thursday 13th August.
Return to Post Index