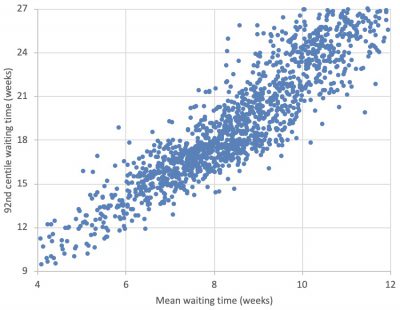 A target 8.5 week average RTT wait?
02/12/2019by Rob Findlay
Referral-to-treatment (RTT) waiting times are under review, and average (mean) waiting times are being trialled as a possible replacement for the current "92 per cent within 18 weeks" target.
There is a close relationship between the current 92nd centile waiting times and mean average waiting times.
Roughly speaking, you can convert the former into the latter by dividing by 2.28. And widely-accepted principles of good waiting list management work for both: keep up with demand, and treat urgent patients quickly and the rest broadly in turn. Which is why I (and notable others) regard a switch to mean average waiting times as pointless and a missed opportunity.
Nevertheless it was intriguing to see this snippet in a recent board paper:
The target average wait (mean) is expected to be 8.5 weeks from referral although this has not yet been set.

September trust board papers for Northampton General Hospital NHS Trust, p.83
A target 8.5 week average wait is roughly equivalent to a 92nd centile wait of 19.4 weeks. There are several things to say about this:
This is probably a relaxation compared with the current 18 week target, and the government should take flak for lowering standards.
But 19.4 weeks is only slightly more relaxed than 18 weeks, so why open oneself to all that flak over such a small change?
Current waiting times in England have already reached 24 weeks with an average wait of 10 weeks, so they are already miles from achieving 8.5 weeks.
Even if they relaxed the target to beyond current performance, any new target would eventually be breached as waits continue to rise.
But let's say they went ahead anyway. What difference would it make to who is achieving the target of the day?
If we look at how many NHS providers are currently achieving an 8.5 week mean average wait, and how many are not, then on the headline all-specialties basis just 31 per cent are achieving.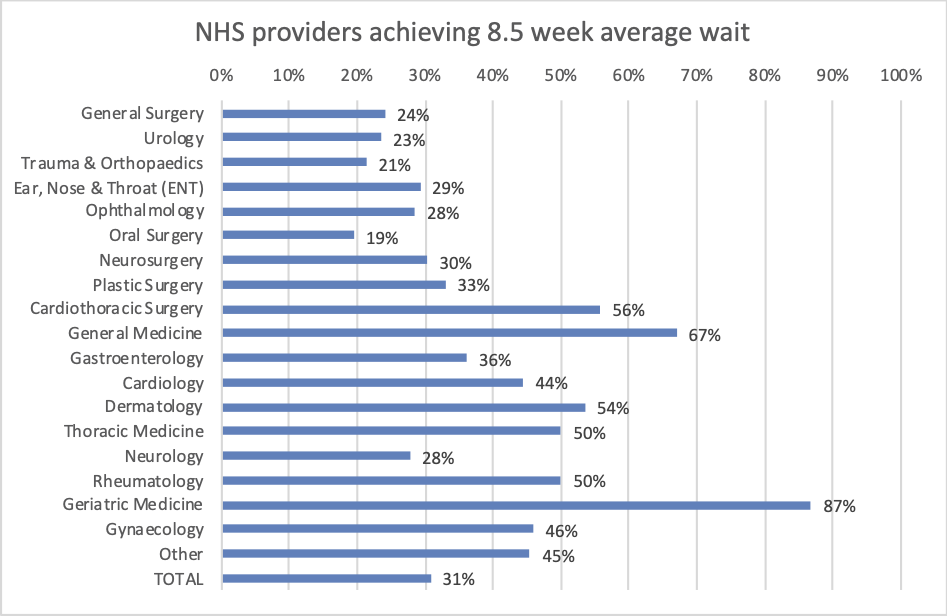 And here for comparison are the proportions currently achieving the "92 per cent within 18 weeks" target.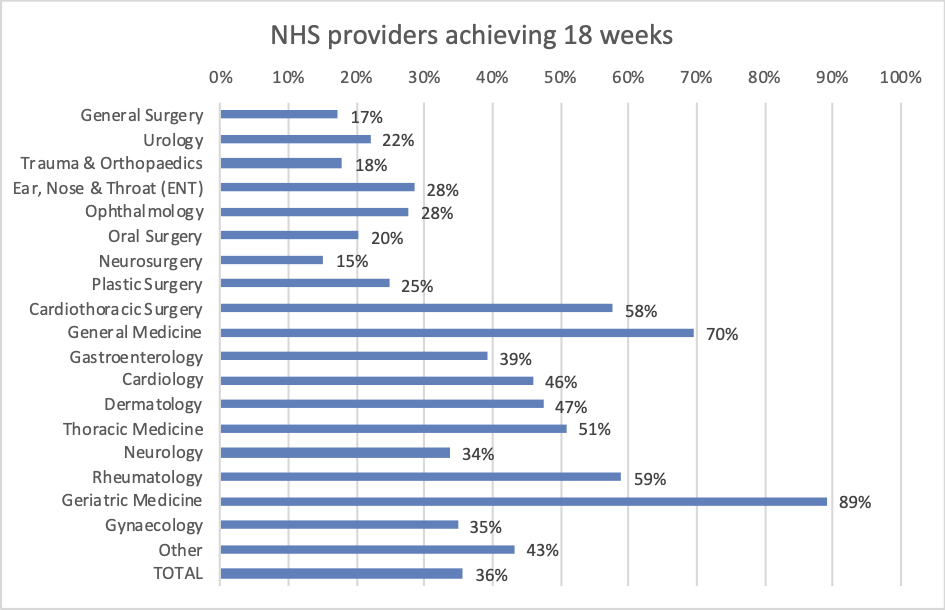 But what's this? More NHS providers achieving 18 weeks than the supposedly more relaxed 8.5 week average? How is that possible?
Quite easily, as it turns out, because the correspondence between 8.5 weeks average and 18 weeks is close but not exact, in part because trusts who are close to the 18 week target manage vigorously to it. Here is an example of one trust in precisely that position.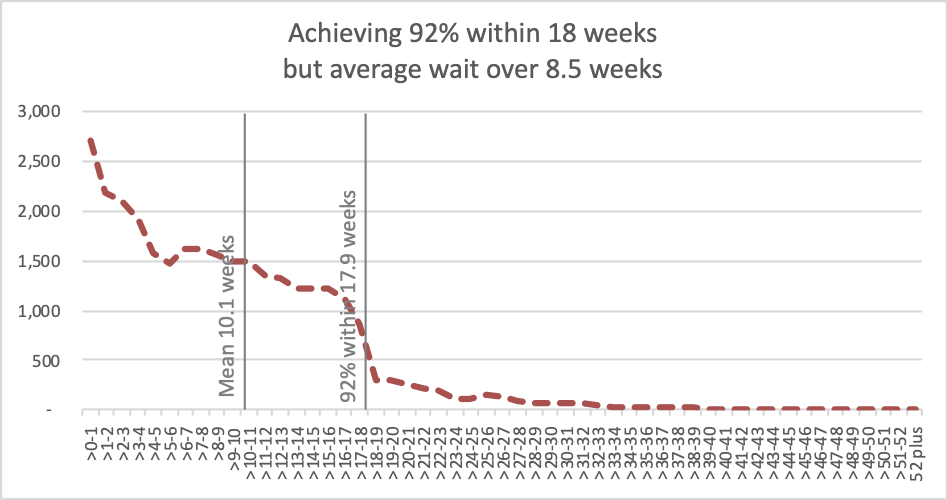 The cliff-edge at 18 weeks shows that this trust has a very large waiting list, and they are straining every sinew to hold it within the target. As a result the mean average waiting time is relatively high, at just over 10 weeks average even though they are achieving 92 per cent within 18 weeks.
And if you still aren't convinced, then try this example. There is a trust which has a specialty that has just one patient on its waiting list, and that patient has waited 12-13 weeks – breaching an 8.5 week average target, but achieving the 18 week target.
If the current 18 week target were abandoned, and the mean average target introduced, then behaviour would probably change. How? Perhaps the field testing will reveal the answer.
If the management of elective patients starts being driven by clinical priority and fairness, at field testing sites, then I may have to admit that the change to average waits is beneficial after all. I fear, however, that one kind of "managing to the target" will simply be replaced by another.
Return to Post Index